ANIMATED VIDEO MARKETING IN 2021
Did you know statistics reveal that including an animated video on your landing page can increase your conversion rate by a whopping 80%? The message conveyed in animated videos has more influence on buyers and potential customers than a standard video. It's no wonder that animation videos are now the most popular type of videos online and quickly becoming one of the latest trends to hit the marketing world.
According to DreamGrow, there are several reasons why animation works better than a standard video:
Great at keeping the viewer's attention

Simplify complex topics

Bring concepts to life

Convey the message of a story better

Relatively cheap to produce – no need for a location, production team, and actors

Fun and enticing for viewers to click on
What is Animated Video Marketing? 
Animation uses photos and drawings of inanimate objects and plays them in rapid succession to mimic movement. In its simplest form, think of a flipbook. Animation is versatile and can be included in your marketing strategy through ads, product demos, testimonials, email campaigns, and through your social media platforms.
Types of Animated Video
Depending on your experience level, budget, and time, there are several different kinds of animated videos to choose from to engage your audience. And luckily, most of these mediums are easy to grasp the basics of and come with free or low-cost software that guides you through the process. Below are a few examples of the most popular animated video styles to get you started.
Anime Explainer Videos
Animated explainer videos utilize a simple animation style to "explain" your company's products or services. Usually clocking in at around 1 minute, these videos are often lighthearted while still getting the message across. Explainer videos can be demonstrated in various mediums and do not require a high level of animation knowledge. A great example of this style is the Wine Country Gift Basket ad. 
TechSmith does a great job of outlining how to make an Explainer video step by step. 
Whiteboard Animation 
Whiteboard Animation simulates animated graphics being hand-drawn, usually with a marker, on a "whiteboard" or something that looks like a whiteboard-style background accompanied by voice. 
Here are some reasons why whiteboard animation videos are so attractive to use:
The style is universal

Pass a great deal of information clearly and promptly

Flexible and mobile-friendly

Greater rate of conversion
Four main factors contribute to the success of whiteboard animation: clarity, script, style, and voiceover quality. A great example of this style is Mountain Might, an altitude training supplement.
For those looking to begin your marketing tactics with the whiteboard animation approach, an excellent software tool to get you started is this Whiteboard Animation Pack by Renderforest. It includes templates, 400 pre-created animation scenes, and online content editing. 
2D/3D Animated Promotional Videos
Once you've mastered the basics of animation, your company may be ready to take the next step into a more sophisticated form of animation. And while this may require hiring someone with a more refined set of skills, you may find that the investment is worth it. 2D and 3D animation is a classic form of animation that most customers or clients are familiar with. 
In 2D Animation, its objects or characters are flat and only include height and width. 3D animation adds in the appearance of depth. One of the most significant differences is its creation, as 3D is created entirely in the computer.
A great example of the 2D animation style is the Etsy Plus ad.
According to its creators, "Our goal was to create a piece with elegant design (and lots of textures!) while keeping the animation playful and feeling handmade. It was like sewing together a pretty dress, but with our computers."
Here is a resource for free 2D and 3D animation software. 
Join NFICA for $5 a year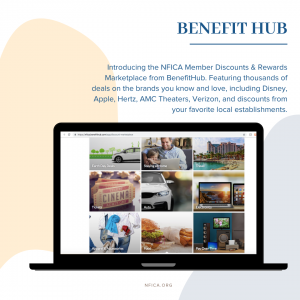 As a member of the NFICA, earn Cashback Rewards from 2% – 20% on everyday purchases and big-ticket items through BenefitHub.
There is no limit to the savings you'll find, so feel free to Shop, Save and Earn as much as you like!