HOW TO MARKET YOURSELF DURING THE HOLIDAYS
What comes to mind when you think of the holidays? Perhaps it's time spent with family, delicious recipes, and gift exchanges, but the holidays are also full of opportunities for those of us that are freelancers, contractors, or self-employed in some other respect. Here are five tips on how to effectively market yourself during the holidays:
1. Tie Your Tactics to the Season
Clients will be naturally drawn to your services if you implement holiday themes, colors, or references into your website and promotional offers. Center your campaigns around emotions and experiences that fit with the holiday season, such as gratitude, giving back, or spending time with loved ones.
2. Prepare Your Calendar 
While it is hard to overlook most major holidays, it's essential to mark your calendar to prepare your seasonal campaigns and offerings in advance. Preparing and promoting your business ahead of time will allow your clients to take advantage of your services fully, and the extra organization may give you some free time to enjoy the season yourself, too.
3. Stay Active on Social Media
Visual social networks such as Pinterest and Instagram are a great way to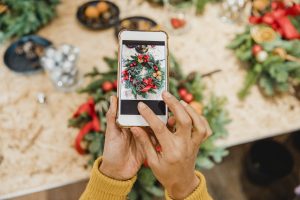 connect with your potential clients all year. Focus on creating content that ties together your work with the holiday season in a way that's memorable, informative, and meaningful. Investing in advertisements directed towards your target demographics is also a great way to make the most of your holiday campaigns.
4. Send a Personal Message
Sending a personal message, whether in the form of a newsletter, email, or a good old-fashioned phone call, allows you to continue building your relationships with your clients. The holidays are a time where many people reflect on their goals as well as what they're grateful for. Let your clients know that you appreciate their loyalty and use this time as a chance to communicate with them on a more personal level.
5. Market Your Holiday Promotions
One of the easiest ways to make the most of the holidays is by offering a sale or a free gift to your clients. Your marketing material can include discounts, coupons, or informational products, so your customers feel like you're celebrating with them. If you're hesitant to offer widespread promotions, reach out to your most loyal clients before the season begins with a special campaign that may include an extra thank-you discount for the holidays.
Join NFICA for $5 a year
Join our community of 15,000 independent contractors, small business owners, freelancers, and direct sellers who are experiencing the benefits of belonging to the NFICA. As a member, you'll gain access to discounts on industry-leading traditional and virtual business tools, the security of supplemental health and life insurance priced competitively to other market options, work-life balance with discounts on lifestyle apps and services, and a quarterly newsletter with tips on improving your business and your life. Learn More.