HOW TO USE KEYWORDS TO DRIVE TRAFFIC TO YOUR ONLINE CONTENT
If you want your content found online, no matter if it's your website, social media posts, or blog, keywords play an incredibly important role in driving traffic to these destinations. If you are a direct sales distributor, an entrepreneur, or self-employed, not only are you competing with millions of other forms of content similar to yours, but in some cases, content that is produced by larger, more established companies with bigger budgets and more tools at their disposal. Keywords can help you stand apart from your competition, allowing your online information to be more easily discoverable by your target audience. 
What is a keyword? 
Keywords are words or phrases that help search engines identify the specific topics your content covers. Another way of looking at it is from a user's perspective. Keywords are simply the search criteria you typed into Google to get the results you wanted. When marketing your direct sales or small business content, keywords are an essential part of your SEO strategy. 
Keywords should be strategic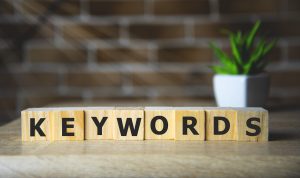 You'll need to research the best keywords to drive traffic to your online content. First, you'll have to educate yourself on the best keyword strategies for your marketing efforts. You may know your audience well enough to guess which keywords will help your content be found easier on social media and search engines, but you'll make a grave mistake if you rely on this alone. The good news is there are many free tools you can use to help better define the right keywords to use. 
Digital marketing consultant Neil Patel offers a great tool called Ubersuggest. With this tool, you enter your domain or a keyword, and after analysis, you get suggestions that help you create strategies to improve your online presence. Ubersuggest is one of our favorites!
Keyword density is the percentage of times keywords are used on a web page compared with the total content. As we'll explain later, the number of times keywords are used in your website will determine how relevant it is to a specific topic. PrepostSEO's Keyword Density Checker will help you determine the right frequency to use for specific keywords. 
Some other terrific free online keyword tools are Google Trends, Google Search Console, and KeywordIn.
Keyword relevancy matters
When choosing the right keywords to include in your content, remember not only to think about industry relevancy but also the problems customers are looking to solve in relation to what you're selling, and other specifics such as location, age, and gender, if applicable.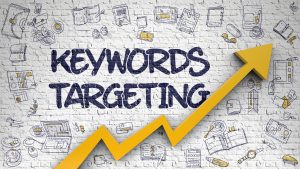 Keywords should match your own company's interests as well as your competitors'. Keep in mind that most searches are four or more words, so using long-tail keywords has a 3%-5% higher click rate.
If you want to rank for the term "makeup" or "cosmetics," you should use it in a broader keyword phrase that specifically targets the audience you want to find your content. For example, use "makeup for older African-American women" or "cosmetics for African-American Millenials." 
Keep an eye on keyword frequency 
Remember when we talked about keyword density earlier? Here's where that comes into play. If you use too many keywords in your content, Google and other search engines will penalize and tag you as potential spamming because it's seen as taking advantage of the system. If you use too few keywords, your content will rank much lower in search results, making your content harder to find. Best practices suggest that using a keyword saturation rate between 0.5% and 3%, combined with a steady stream of content, will help your brand become more visible online, leading to more clicks and, hopefully, more sales. 
Join NFICA for $5 a year
Besides insightful content to help market your direct sales or small business, NFICA offers entrepreneurs and independent contractors voluntary and group benefits, supplemental health insurance and discounts on travel, office supplies, and more. Join now for exclusive access to these benefits and more.