USING INSTAGRAM STICKERS TO PROMOTE YOUR BUSINESS
Instagram story features have popped off over the last few years. As a small business owner selling goods or services, Instagram stories are where it's at. Between stickers, music, and quickly generated captioning, Instagram has made it easy for you to create a masterpiece out of your story. Taking the time to make an aesthetically pleasing story can increase your brand awareness, convey your message, and portray your vibe on a whole new level. Although this seems rather obvious, very few people seem to spend time optimizing their stories in this way. Today, we will be diving into all you need to know about the "stickers" feature on stories. 
What Are Stickers?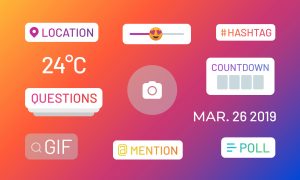 Instagram story stickers allow you to add visual interest, additional information and connect with your audience through your photos and videos in a way that appears fun and pleasing to the eye. Stickers options include:
location

mention 

hashtag

caption

question

gif 

quiz

donation

countdown

current time

weather
 While there are nearly a dozen stickers, today, we will focus on the top 3 stickers you can use to raise brand awareness. 
3 Stickers All Business Owners Should Be Using
Question Sticker – The question sticker allows you to engage with your customers and opens the floor to ask them questions about their wants and needs, your products and services, and anything in between. What's better than 1:1 communication with your ideal customers? Nothing! An example of a question you could ask for your business would be: "For my next launch, what is something you desperately want to see?" 
Poll Sticker – Poll stickers allow you to poll your audience and receive real-time feedback. Not only does using these stickers provide you with valuable feedback from your ideal customers, but it also boosts your engagement. Consider that a win, win! Some examples of poll ideas are "this or that," "which would you prefer," and "get to know me." 
Countdown Sticker – Countdown stickers allow you to share a countdown to an important date with your audience. Consider this sticker your best friend when it comes to new launches and exciting announcements! Not only does it let your audience know special dates, but it also creates hype! For example, in the week leading up to a special launch, you can be sharing this countdown to raise awareness and generate excitement among your audience.  
Tips For Using Instagram Story Stickers
Don't overuse them. While stickers are tremendous and can pack a punch, don't use them just to use them. Use stickers only when it makes sense, adds visual appeal, or serves a specific purpose to reach an end goal! When stickers are overused, they can look messy.

Aesthetics matter. When creating your story, spend the extra time methodically placing your stickers. Having a story that's pleasing to the eye can go a long way in catching the viewer's attention and conveying your message on a deeper level. Un-aesthetically pleasing stories can feel overwhelming and ultimately turn viewers away. 

Change it up! While brand consistency is essential, don't be afraid to change up your daily stories through stickers. While Instagram stories can help propel your business, they should also be entertaining for the viewer. Make the viewing experience fun by adding music, gifs, and polls! Changing things up allows you to keep your audience engaged long term. 
Join NFICA for $5 a year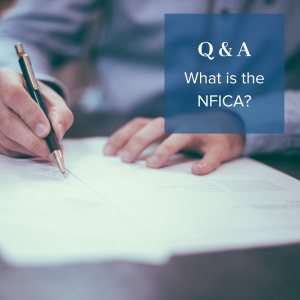 The NFICA provides small business owners, freelancers, and direct sellers with industry-leading benefits. From insurance benefits to non-insurance lifestyle and business products, we've got you covered.
To learn more about our products and enjoy the benefits of belonging, visit our website.