3 Data Based Morning Habits for Successful Entrepreneurs
Why do you think you should care about your morning routine if you're a small business owner, independent contractor, or direct marketer? Simple. Because your morning routine plays a crucial role in setting you up for a successful day. Studies show that those who have a morning routine experience lower levels of stress and have better health; not only this, but did you know that middle-class, wealthy, and low-income Americans don't have the same morning routines? Who would have thought that something as mundane as how you begin each day could result in the potential for more money in your pocket?
There are three simple daily practices that you should consider implementing to experience a healthier, happier life and maybe even boost you into the wealthy class. 
Morning Habits For A Successful Day
1. Wake up at the same time every day. 
Data shows that rising at the same time each day has numerous benefits, such as:
Better sleep

Reduced caffeine dependency

Improved alertness

Sharper focus

Increased memory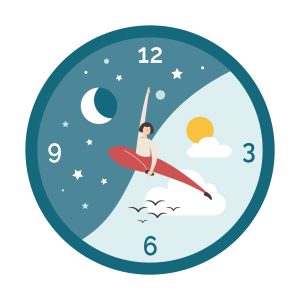 In addition, waking at a consistent time reinforces your circadian rhythm, a 24-hour internal clock that helps your body regulate your sleep and wake time, hormones, body temperature, and eating habits. We can't forget to mention that one of the best things about this science-backed morning habit is that you do not have to commit to waking up at ridiculously early hours to reap the rewards. You can choose a time that feels realistic for you! 
If you struggle to create healthy habits around consistent sleep and rising times, consider checking out the Hatch Restore. This product has gained significant traction in the wellness space as it is proven to help users create consistent routines and feel less stressed and more energized. 
2. Make your bed 
There are two types of people in this world – those that take the extra couple of minutes to tidy their bed each morning and those who walk out the door and could care less. Beyond just looking nice, does a made bed impact you, your mindset, and your mental health? Studies show that it does more good than you could imagine. The substantial benefits recorded include: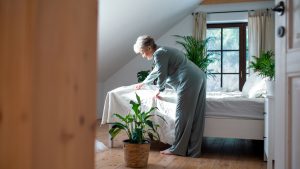 A feeling of accomplishment

A sense of calm

Better sleep

Enhanced organization

Improved focus

Relaxation

Stress reduction
With all that being said, why not carve out five minutes each morning to make your bed?! 
3. Get Outside and Ground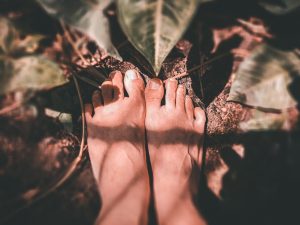 If you haven't yet experienced the practice of grounding, it's time to start. Grounding, also called "earthing," is a therapeutic technique involving activities that "ground" or electrically reconnect you to the Earth. This can be as simple as walking outside each morning in your bare feet for 10 minutes or sitting in a chair with your feet on the ground as you drink your morning coffee.
The healing benefits of grounding first thing in the morning include:
Decreased chronic fatigue and pain 

Improved mood

Decreased anxiety and depression 

Improved sleep

Reduced blood pressure
If going outside first thing in the morning isn't an option for you, check out these alternatives that connect you to conductive systems that transfer the Earth's electrons from the ground into the body
Tips For Maintaining Your Morning Routine 
As you can see, the science-backed habits we have encouraged you to implement are not outlandish – they are basic, doable, and attainable for anyone! Keep it simple. Rather than overwhelming yourself, keep your routine short, and to the point. 

Use a 

Habit Tracker

. A habit tracker is precisely what the name suggests: it's a way to help you track how well you're sticking with daily, weekly, or monthly habits. Consider using a habit tracker if you struggle with creating consistent morning habits and constantly fall off the bandwagon. 
Join NFICA Today
With Omicron running rampant, there has never been a better time to talk to a doctor from the safety of your own home.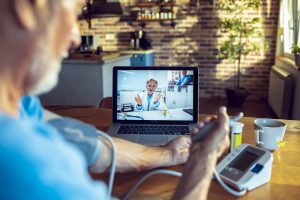 Whether you or a family member are experiencing symptoms, a visit with a doctor may be out of reach. HealthiestYou by Teladoc is just the answer!
At only $9 a month, you get 24/7 unlimited access to over 8,000 U.S. board-certified doctors via phone or video chat. Doctors can diagnose, treat and prescribe medicine.
For just $9 a month, here's what you get:
Unlimited access to a network of over 8,000 board-certified, licensed doctors who can diagnose, treat and prescribe medicine via phone or video chat*
Treatment for the most common ailments including allergies, bronchitis, sore throat, pink eye, and many more
Includes unlimited use for you, your spouse, and your dependents
$0 consult fee with doctor
Comparison tools to price and save on prescriptions and medical procedures
Tools to locate care within your area (emergency room, urgent care, providers, pharmacy)
Works with your current health insurance plan to locate in-network providers and track deductibles
Congratulations! Your healthcare just got a whole lot easier.