STILL NOT SELLING ON ETSY? MAYBE IT'S TIME TO START
Etsy, a global online e-commerce marketplace where creatives and small business owners can sell their goods, took the entrepreneurship world by storm in early 2005. Etsy provides a platform that connects sellers to those seeking unique art, home decor, clothing, jewelry, and more. Whether you are a full-time seller or just in the "side hustle" stage, Etsy could potentially be an excellent place for you! 
Check out these 2020 stats:
More than 61 million new shoppers joined Etsy.

$3.3 billion was spent by shoppers on Etsy from October to December. That's a 118% recorded increase within just a year. 

During the holiday season alone, 13 million new shoppers joined Etsy. That's 76.7% more than the year prior! 
Pros of Selling On Etsy:
A financially low-risk option without the hassle of domain and hosting fees you encounter with a website shop.

Simple to get your shop set up within a matter of hours and start making sales.

Potential of reaching millions due to Etsy's HUGE community.

Free built-in analytics enable you to see how your posts are doing and where your traffic is coming from!
Cons of Selling On Etsy 
You may not immediately reap the benefits. Be prepared to put time and energy into growing your storefront.

Competition. Millions of sellers on Etsy may be creating something similar to you. 

Etsy charges fees for selling your items. There are three different fees: 5% sale fee, 0.20 listing fee, and 3% +$0.25 processing fee per transaction.
Setting Up Your Account
The great thing about Etsy is that they make it relatively simple to set up a professional-looking storefront within a matter of hours.
Customize Your Shop
Shop title

— Text used to describe your shop. It can be up to 55 characters long. Consider a tagline. 

Shop logo (icon) and banner

— Although your shop logo and banner are two different things, they essentially work in tandem to represent your brand as a whole. Make both intensely visual because it gives an idea of what your brand and business are all about. Use text sparingly in these two graphics. 

Shop announcement

— Intended to quickly communicate with your customer what your shop is all about. Include a welcome statement, where you are based, and what shoppers can find in your store! Include essential links and email contact information. 

About section

— Improves your ranking in search results by boosting your "customer & market experience score" if you fill out this section—a great place to showcase your brand story with photos and videos.

Shop members

— Allows your customers to get to know who they are buying from. 

Shop policies

— Spells out your guidelines for payment, shipping, and exchanges/returns.
If you have Etsy Plus, you'll have advanced shop customization.  
Provide Detail To Your Listings
We suggest putting great attention and detail into the quality of images and videos you add to set you apart from the millions of others on the platform. Here are some tips to consider:
List a minimum of 20 items to fill your front page.

Make the first photo your best since it becomes the thumbnail for that item.

Choose your categories and sub-categories wisely since they determine your available attributes.

Use as many attributes as each item has available to maximize exposure in search results. Attributes include color, measurements, occasion, and more.

Use up to 13 tags for each item listing. These are short descriptive phrases that help find your product during customer searches. 

Use strong keywords.
Market Your Products
Now that you have your Etsy shop set up and customized, it's time to start marketing your products and bringing in the sales. Here are four easy ways to help you market your shop with ease:
👉🏼 Instagram — Consider sharing images of your products, talking about your brand, and showing what goes into making your products behind the scenes.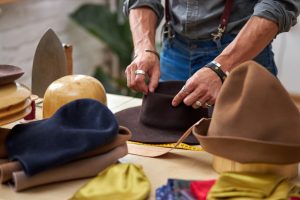 👉🏼 Pinterest — A hub for sharing, promoting, and marketing your Etsy shop. On Pinterest, you can create beautiful boards and aesthetically pleasing pictures of your products that are bound to catch your ideal client's eyes. 
👉🏼 Email Marketing — Once you have made some sales, consider forming an email list to keep your customers updated on new products, deals, and specials taking place in your shop. 
👉🏼 Apps and Tools — there are countless apps and tools to help make selling easier. Two of our favorites are Marmalead, which enables you to find keywords that REAL shoppers are using, and Outfy serves as a social media manager for up to 9 platforms you can connect to your Etsy shop.
At the NFICA, we want to see you reach new heights in your business. For more tips on entrepreneurship, check out our other blog posts.