USING INSTAGRAM REELS TO PROMOTE YOUR BUSINESS
Have you ever heard of Instagram Reels? First launched in Brazil in 2019, the now-global Instagram tool allows you to create and share 15-second videos with your audience on your Instagram page. It's available on both Android and iOS devices. 
Though it's similar to TikTok, Instagram Reels has plenty of its own benefits, with brands like Louis Vuitton, Sephora, and Walmart taking advantage of them. 
Instagram Reels IS NOT Instagram Stories
For those who aren't as familiar with Instagram, you have a couple of options for posting content. You can post in your feed, which your followers can scroll through. Or you can post in Stories, which appear at the top of the app and offer the ability to add multiple photos and videos at once. You can add music, text, and doodles over your Stories content, which all disappear after 24 hours. 
All of the Reels you create will also appear in a dedicated section of your profile. There is a recently dedicated "Reels" tab at the bottom center of the Feed home screen for easy access. 
Why you should use Instagram Reels to promote your business
Reels have some benefits for brands to take advantage of when using this tool on Instagram. They include:
If you're an Instagram loyalist but want to create the same kinds of videos that have made TikTok 

the best-rated app of 2020 on iOS

, then Reels is for you. 

Reels is another way to add a bit of fun to your brand and is a great supplement to your customers' Instagram experience. 

With Reels, you can create AR effects, control your videos' speed, and add clean transitions between multiple videos, among other editing tools, so there's a more professional feel to the videos you create. 

Reels allows you to be more creative and casual when you're advertising your brands while also giving your audience valuable takeaways in short, digestible snippets. You can make how-to or demo videos, short customer case studies and testimonials, and even recaps of special events. Check out these 

ten unique Instagram Reels to Get People Watching Your Channel

.

The visibility factor with Reels compared to Stories on the feed is considerable since many of the top videos in 

Explore

 feeds tend to be Reels content. It's important to note that Explore is designed for users to discover new brands and content, so it's a great way to boost your brand. 
Use Shopping in Reels to direct your audience to your online store 
The most significant way you can use Instagram to promote your business is by using Shopping in Reels. This feature was launched in late 2020 and is big news for businesses and creators, who will now be able to insert a "View Products" button that viewers can tap, allowing them to learn more about a specific product and even buy it. Another new feature includes a way to tag your videos as "Branded Content" so people can be transparent when they're working with a business to promote their products.  
Best practices for using Instagram Reels 
If you're not familiar with how to use Reels on Instagram, here's a tutorial. 
Got it? Great! Now, here are some best practices when creating videos on Reels.
Mix your audio

  – If you're creating a voiceover with music in the background, use the "mix" feature to choose your audio levels to make sure you can hear your voice over the music.

Use hashtags and a strong caption –

 Think of your caption as your headline, which should immediately get your audience's attention. Make it short, snappy, and attention-grabbing. Use hashtags to increase your viewability, and remember that your viewers will see only the first few words unless they click on the "show more" tab, so make sure you are strategic in your wording. 

Be funny

– Reels, like TikTok, are meant to be casual and fun. Because the videos are so short, your content needs to be memorable. Humor is a way to achieve this. Just be sure your post is tasteful and nonoffensive.

Watch TikTok and Reels videos 

– To get an idea of what's popular on both TikTok and Reels, spend some time watching what others are doing. For inspiration, here are 

some examples of how other brands are using Reels

. 
Join NFICA for $5 a year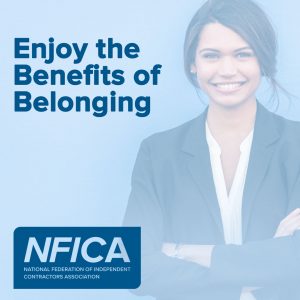 The National Federation of Independent Contractors Association is designed to meet the needs of self-employed business leaders like yourself by offering competitively priced insurance benefits and lifestyle and business product discounts. With NFICA's support, you can confidently say, "I can do this!" Learn more.