7 PRODUCTIVITY TIPS FOR FREELANCING AT HOME
The freedom that comes with being your own boss has a ton of perks. For many people, freelancing is a way to pursue their passion or take charge of their career. 
But, working from home as a freelancer has its share of pitfalls, too. It can be hard to stay motivated and productive without the structure of the traditional work model. If you're struggling to stay focused and efficient as a freelancer who works from home, here are some tips and tricks that can help you boost your productivity.
1. Designate a Workspace
Establish a consistent workspace in your home. Choose a comfortable location away from excessive noise or distractions and confine work to that location (likewise, get up and go somewhere else when you're taking a break). 
Most people choose to set up a home office and work at a desk, but that doesn't mean you have to. Your dedicated workspace could be as lavish as a fully-fitted home office or as simple as a stool at your kitchen counter. It doesn't matter, as long as it's somewhere where you can work comfortably and productively every day.
Having this designated workspace acts as a mental boundary between work and home when both exist in the same building. Working in a different area of your home from where you spend most of your leisure time helps keep you focused while working and free from work stress while you relax.
2. Cultivate Your Space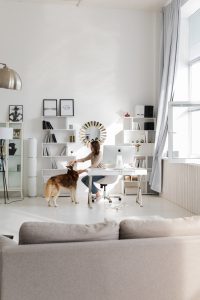 One of the advantages of working from home is that you have the freedom to create whatever kind of work environment will be most conducive to your productivity. It's essential to create a comfortable setting where you don't mind spending time every day. Whether you prefer a traditional setup or something unique, you can arrange or decorate your space however you see fit. Include decorations, scents, or sounds that will positively impact your mental wellbeing throughout the day. This can help prevent burnout.
It's essential to balance your decor with a sense of organization. While customizing your workspace lets you tailor your environment to your working style, too much customizing can quickly turn into clutter. Cultivating a space where you can work at your best means keeping it tidy.
3. Be Disciplined About Your Schedule
One of the best parts about working for yourself is that you get to set your schedule. However, it's essential to find a middle ground between flexibility and routine. A sure way to kill your productivity while working from home is to let bad habits creep into your daily schedule. 
If you work at different times each day or let yourself get sidetracked often, it will be much harder to find your momentum. To avoid this, stick to the same routine each day. Get up at the same time, start work at the same time, and take your lunch break at the same time — the more consistent you keep your workdays, the easier it will be for your mind and body to enter "productive mode" and stay there until the end of the day.
Some people consider it helpful to emulate a regular, non-remote workday by following the same routine each morning. Even though your "commute" may be a short walk from the kitchen to the spare room, this morning ritual is a great way to separate work and home and put yourself in a productive headspace.
There's nothing wrong with exercising a little flexibility in your schedule when you need to, but don't let it completely replace a healthy routine.
4. Identify Your Flow Time
The workday is not a consistent sprint. We all (or most of us) have bursts of productivity throughout the day. By keeping track of when those bursts of productivity happen, you can take full advantage of them.
Identifying your "flow time" (your period of greatest productivity) is critical for someone who works from home. In particular, we tend to have one specific time of day when we work most productively. It could be first thing in the morning, the hour right before lunch, the final sprint in the evening — it doesn't matter.
Take note of the time of day when you feel most energized and get the most work done. Block out this time (ideally 1-2 hours) for focused, uninterrupted work, and schedule your most important tasks for this chunk of the day. Save lower-pressure tasks like catching up on emails for the slowest parts of the day.
5. Take Frequent Short Breaks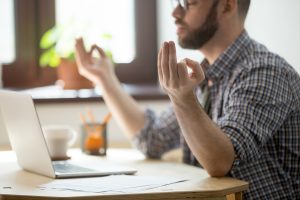 It's easy to think you'll be more productive if you stay laser-focused all day, but this will harm your productivity. Working for long periods with no breaks removes your ability to focus on the task at hand. A lunch break alone won't cut it—frequent, short breaks have proven most effective. If you can, going for a short walk or getting some other form of light exercise is the best way to spend your break time. 
Try taking a 10-minute break each hour. Even though it might feel counterproductive, stepping away from your desk for a few minutes every hour will make it much easier to stay focused for the rest of the hour. Or, you can follow a more structured technique for managing break times, like the Pomodoro technique.
6. Listen to Music
There's been a lot of research on the effects of music on the brain. While these effects are still not fully understood, we know that music aids memory, increases motivation, and lowers stress levels. Annoyed coworkers might prevent you from listening to music at the office, but when you're a freelancer working from home, you can work to whatever soundtrack you want. 
Most people find lyrics distracting and prefer to listen to instrumental music while trying to focus. This isn't the case for everyone, so try out both if you're unsure. Whichever you choose, it's a good idea to match the type of music playing to the task at hand. 
Are you feeling overwhelmed by your workload? Maybe try some classical piano to ease your stress. Are you struggling to make it through the post-lunch slump? Try something more upbeat, like pop or hip-hop. There are ways to use different genres of music to influence your mindset while you work.
7. Set a Quitting Time
When you work from home, it's easy to stretch yourself too thin. Whether you're trying to make up for distractions earlier in the day or just getting a head start on tomorrow, a "one more task before I log off" mindset will quickly cause work to bleed into the evening. This is a recipe for burnout.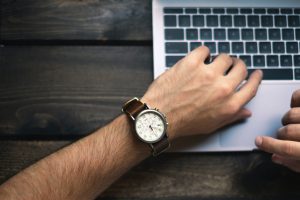 It's better to pace yourself by deciding on a "quitting time" and sticking to it every day. Even though your workspace is just a room or two away, that doesn't mean you should pop back in to wrap up one more task after dinner. You may have to prioritize your tasks and leave something for tomorrow morning instead, but you'll be far more productive in the long run.
It's also easy to lose track of time. There are all kinds of cues that it's time to pack up and go home at the end of a traditional workday, but when you're working by yourself in the comfort of a home office, it's easy to become engaged in a task and let it carry into the late evening. Try setting a timer or asking a family member to remind you to finish up at a specific time.
Conclusion
Every freelancer has tricks they use to keep themselves motivated and productive. These seven are tried and true techniques that work for most people, but you should consider them a starting point. Try them out and determine which ones work best for you. Maybe you'll find some don't work for you at all — that's okay. It might take some trial and error, but you'll discover the strategies that keep you focused and spur you to success.
Join NFICA for $5 a year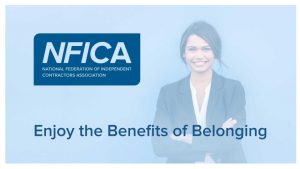 With the National Federation of Independent Contractors Association, you can have that peace of mind to keep saying, "I can do this!" We offer life insurance at rates not available to the general public, discounts on business tools through BenefitHub and WorkingLive, competitive rates on Telemedicine, and health products that include critical illness, accident, and hospital indemnity insurance! See what we have to offer.